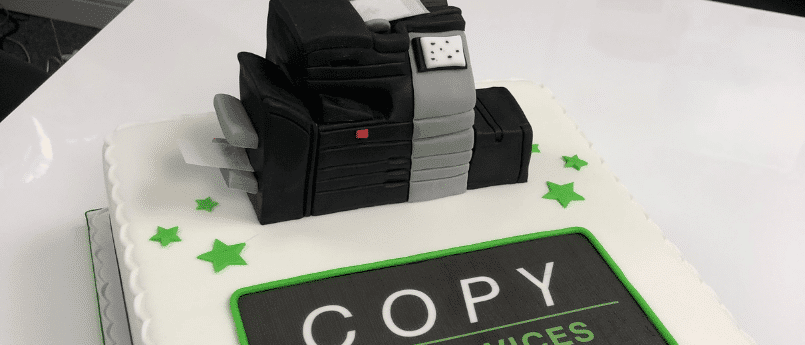 Celebrating 15 Years of Copy Print Services
In May 2021, we celebrated our 15th anniversary as Copy Print Services. It's been a long but wonderful experience which we wanted to look back at. So, to celebrate how far our team has come, we took a trip down memory lane, back to how it all started.
John started the business in 2006, working from home (which doesn't seem so strange after a global pandemic). "I was using my spare room as an office and my garage as a workshop/storeroom. At the end of the first year of business, we achieved sales of £170k and had a small customer base of about 35 machines. We also 'persuaded' Olivetti to give Copy Print a dealership which was a big win for us.", John Hynes, Managing Director.
Copy Print took on some office space on Seymour Road in Bolton in 2007. It was also this year that Dave, our now Senior Service Engineer joined the business – as a service engineer. "A year later we were juggling between my home and Seymour Road, both of which were getting full. To create some more space, we rented a unit at Evans Easy Space on Manchester Road. Lisa, our office manager came on board, making Copy Print a three-man team. During 2008, customers produced 4.5 million prints.", John Hynes, Managing Director.
2011 saw the team move into Egerton Street in Farnworth, Bolton. By this point we had grown to 10 staff and were well established in the North West. We had 144 contracted machines in the field that produced 9.5 million prints that year.
In 2015, the land and warehouse on Mather Street, Bolton was purchased. After substantial building work, the team moved in during the summer months. This provided 5,500 square feet of warehouse and office space!
Fast forward to 2021 and we have nearly 1500 machines being used by our customers. Between them they produce over 50 million prints per year and our supported by our team of 17 staff.
Copy Print Services is now in a strong position to support our customers' printing and scanning needs for the next 15 years and we're looking forward to every minute!