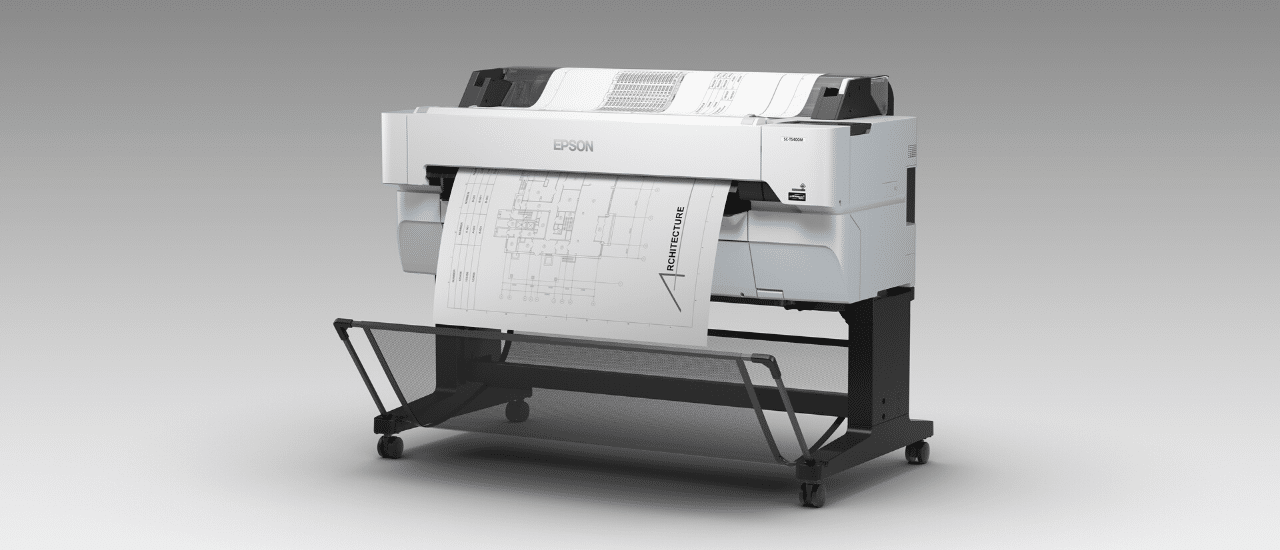 What Is A Wide Format Printer?
Many businesses have specific printing needs that can only be fulfilled by different types of printing equipment.
A small accountancy practise will have different printing requirements than an architect company for example.
For many businesses, especially in industries such as Engineering, Manufacturing and Graphic Design, wide format printers are essential to their business operations.
Whilst standard office printers have you covered for daily A4 and A3 printing, you may find yourself on the search for a wide format printer if you are looking to print onto larger sizes of paper.
But before we get into specifics, let's define what a wide format printer actually is.
What is wide format printing?
A wide format printer is a printer that can print onto Media (Paper) from 18 inches wide to 100 inches wide (but typically they are classed as either A1 (24") or A0(36") ).
Wide-format printers are commonly used to print, posters, print banners, vehicle graphics, construction plans, architectural drawings, wallpaper and other large format requirements.
These types of printers will usually use inkjet technology to print on a variety of Media, for example, Plain paper, glossy-coated paper and waterproof/tear-proof papers (for use where the plain paper would get contaminated, wet or easily ripped).
As well as inkjet, wide format printers are also available in laser-based forms.
Wide-format printers can range in sizes too. Usually, the wider the printer, the more expensive it is.
What is wide format printing used for?
Wide-format printing has a long list of possible applications. This type of printing can be used to capture attention from afar, provide a visual reference for designers and engineers and much more.
Wide-format printers can be a more economical printing choice for short-run projects, making them more cost-effective than other printing techniques such as screen-printing.
A typical entry-level machine will use 4 inks to print the image, cyan, magenta, yellow and black. these colour are "mixed to produce the full-colour palette.
For cad drawings, posters etc a 4 colour machine will produce a good enough print quality.
There are machines which have other colours, light cyan, light magenta, orange etc. These are typically aimed at fine art printing where the end result is very colour specific.
Depending on which industry you are from and the prints you want to produce will typically decide which wide-format device you need.
The two main features are
1. width of media
2. number of colours of ink
How much do wide format printers cost?
There are many wide-format printers currently on the market, from brands like Epson an HP.
But how do you know which one to get?
Ultimately, it comes down to the needs of your business, the size of prints you need and your budget.
You may find that some lower-end wide format printers do not deliver the print quality that you require for your business operations or maybe you find that speed is more important over quality.
In terms of price, wide format printers can range anywhere from £700 to £10,000+, depending on the functionality and features. These can be leased from as little as £25 per month.
When it comes to features it's important to always think about the specific applications you have for the printer.
Consider choosing a printer that is going to improve the efficiency of your workflow and serve a specific need within your business e.g. a banner at a trade show.
There are also machines on the market which have an attached wide format scanner.
This can either produce "photocopies of the original or produce a digital pdf to be filed away/emailed onto a client etc.
Here at Copy Print Services, we supply large format printers for a number of different applications.
We've been supplying wide format printer's for a number of years and this brings with it vast knowledge of what is available.
We're one of the best equipped to guide you and help you choose the best large format printer for you and your business.
If you're wondering what the best large format printer for you is, talk to us and we can help!