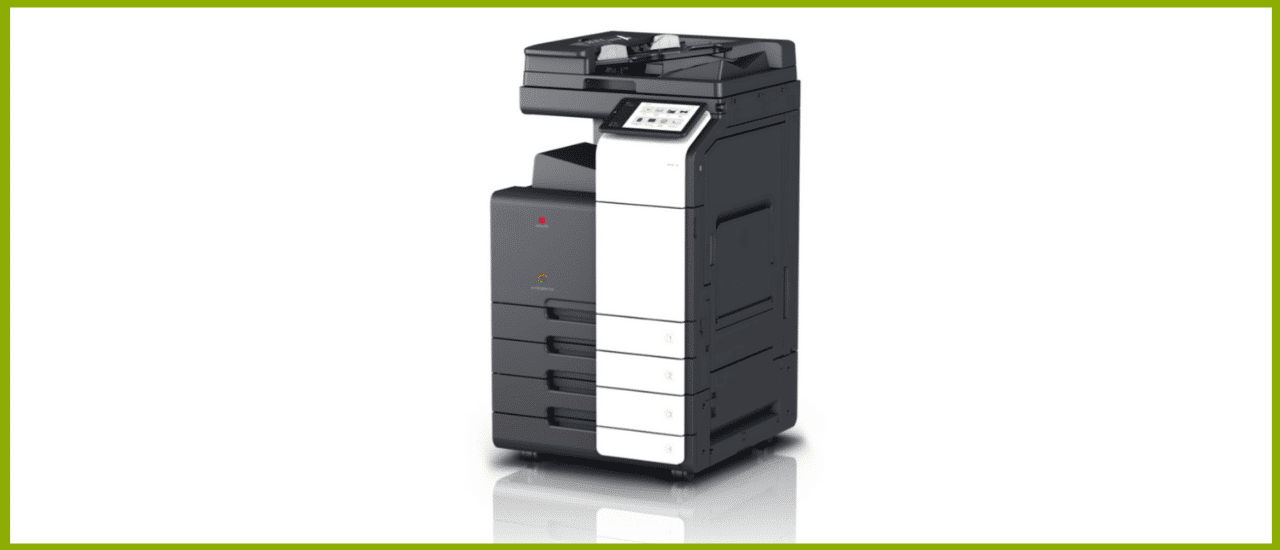 A3 Photocopiers: Everything You Need To Know
Photocopier's play an integral role in many businesses internal operations.
From producing marketing materials to general office documents, A3 Photocopiers provide businesses with the ability to carry out large-scale printouts suited to their business goals.
When considering whether to purchase a copier, you need to ask yourself two questions:
What do I need to print?
How much do I need to print?
Below, we'll guide you through some key points to consider before you make a purchase.
Understanding the benefits, features and cost will help you make an informed decision to find a copier that suits your needs.
What are A3 Photocopiers used for?
Larger sized copiers have a wide range of applications.
While A4 photocopiers are used in many offices, certain businesses are more suited to copiers capable of printing on bigger scales.
Businesses who need to print larger sized documents, e.g. design agencies and architects, will find huge benefit from investing in a copier that has A3 functionality.
If you are looking to print in sizes larger than A3, e.g. banners, vehicle graphics etc, a wide format printer will be exactly what you are looking for.
However, if you are looking for a cheaper alternative and have strict A3 needs, an A3 photocopier will be the best solution.
What are the benefits of A3 Photocopiers?
Before you go ahead and purchase a machine let's look at the wider business benefits.
Increased Productivity
Every business could benefit from increased productivity. According to the Office for National Statistics, productivity in the UK has fallen at its fastest annual pace in five years!
Ensuring your printing solutions are efficient and supporting your staff to carry out their work is an integral driver.
You will experience greater productivity from the increased speed and power of a larger copier. From handling bigger workloads to decreasing the speed of day-to-day tasks.
And, you can expect to print up to 100 pages per minute in mono or colour, depending on the model.
Most A3 photocopiers on the market also come built-in with A4 printing too, meaning they can print A4 documents without having to change cassettes or paper in the device.


Functionality
Another advantage is that they tend to use larger toner cartridges. This means that you won't have to change the toner as much as you would with an A4 only copier.
The ability to store a larger capacity of paper means you can spend less time refilling your copier and more time on the work you need to carry out.
The units Copy Print Services provide are multifunctional, allowing you to fax, scan, email, copy and print from just one machine.
If your office has a fast turnaround for documents, a multifunction copier could be exactly what you are looking for.
In-house Marketing Capabilities
Many businesses will look externally when it comes to producing marketing materials.
But the reality is, producing your own marketing materials in-house can save you a lot of time and money.
Dealing with a third party and having them make amendments/changes can be very time-consuming, especially if you have tight deadlines.
Buying or leasing an A3 photocopier and producing your marketing materials in-house is a great way for your business to save expenses and free up your time!
Lower Running Costs
Whilst the up-front cost of an A4 only copier may be cheaper than an A3 copier, the running costs of A4 only copiers are much higher.
Buying a cheaper printer may seem like you are making a wise decision, however, you need to be aware of the ongoing consumables you will need to buy.
Before you spend any money on a photocopier, it's important to think about how many consumables you will need (e.g. paper, toner, maintenance) and the cost of each of these.
With the added processing power and storage, A3 photocopiers will have much cheaper running costs longer-term due to machine capacity and the larger toner cartridges.
At Copy Print, we offer flexible printing solutions, so if you aren't ready to buy a copier, you can always lease one instead.
Leasing, instead of buying, can work out better from a cash flow perspective and gives you the freedom to upgrade your equipment in-time if your needs change.
If you would like more information on leasing, you can read our blog here, providing an in-depth insight into the benefits.
What are the best brands for A3 Photocopiers?
There are many brands on the market that produce A3 photocopiers. At Copy Print services, our go-to brands are Olivetti and Epson.
Below, we will dive into the specifics of each brand, their products and establish which one will suit your needs the most.
Olivetti d-Color MF259
The Olivetti d-color MF259 is an A3 multifunctional printer capable of producing documents in colour and mono.
The MF259 comes with a 10.1" multi-touch operator panel, featuring a user friendly interface and gives users the ability to customise any usage needs you have.
Not only does it come with GDPR compliant data security features but it also has 8GB of RAM memory and 256 GB SSD memory.
Printing, scanning, document storage, this A3 copier is capable of them all and more!
This printer is designed to deliver the highest standard of print quality, in both colour and mono at 25 ppm.
The MF259 also take advantage of Airprint and Google Cloud print, meaning you can print from anywhere around the world.
This Olivetti model is designed with volume and speed in mind and boasts a sheet capacity of 6650.
With reduced energy absorption and recyclable components, it's easy to see why these models are popular with so many businesses.
If you are looking to print brochures, presentations or any other forms of marketing materials, this is the printer for you!
For more information on this model, visit our product page.
Epson Workforce Pro WF-C869R
The Epson Workforce Pro WF-C869R is a multifunctional inkjet printer that offers great performance, outstanding reliability and an environmentally friendly printing solution.
Similar to the Olivetti models, the Workforce Pro comes with a built-in 7" touch screen control panel.
This enables multiple users to have access to the machine, each with their own unique authorisation code leading to a boost in security.
This copier is capable of printing up to 35 pages per minute in either mono or colour and allows users to feed 50 pages at a time for express copying and scanning.
Again, similar to the Olivetti copiers, the Epson WF-C869R utilises airprint to let you print from anywhere in the world!
The Epson WF-C869R has been built from the ground up to ensure you get the cost-saving benefits of an inkjet printer, with the business performance of a laser printer.
If you are looking to print general office documents and are on a tighter budget, this could be the A3 copier you are looking for.
For more information on the Epson Workforce Pro WF-C869R, visit our product page here.
Where can I buy an A3 Photocopier from?
Hopefully, you now have a much better understanding of the uses of A3 photocopiers, the benefits and the best brands currently on the market.
If your business is looking to increase productivity and expand your printing functionality, you are in the right place!
At Copy Print services, we supply Epson and Olivetti A3 photocopiers, with flexible pricing options.
After supplying photocopiers for a number of years, we're fully equipped to guide you and provide all the information you require to make an informed decision on the best copier, or other printing solutions, for you and your business.
For more information on our range of products and associated costs, call us today and discuss your brief with one of our team!