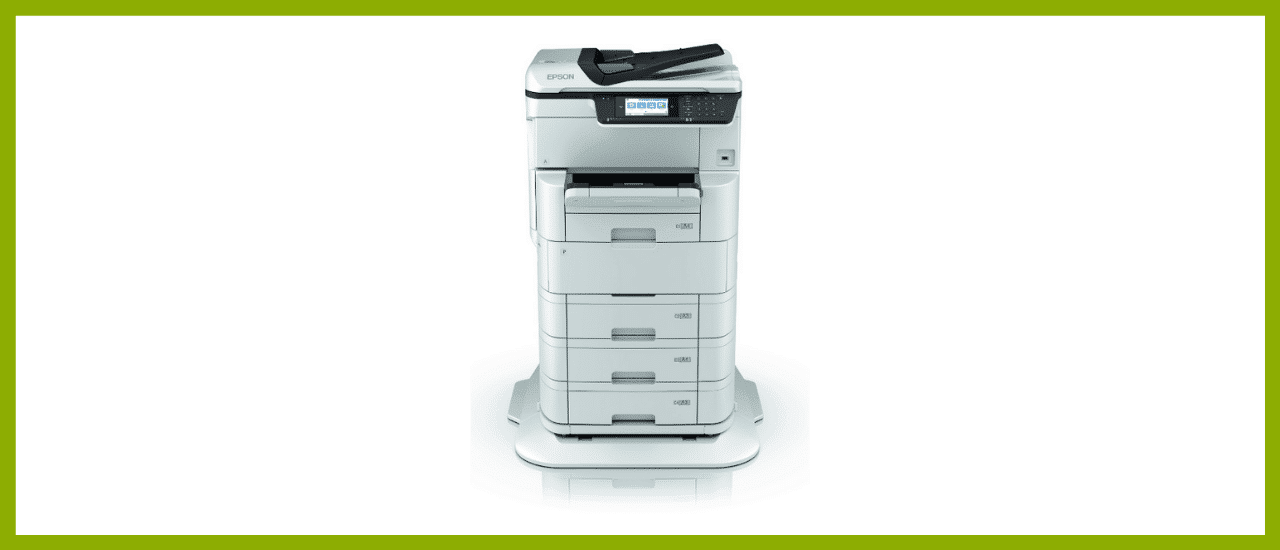 A simple guide to choosing a multifunction printer
Multifunction printers play an integral role in many businesses internal operations, and can be the ideal solution to offer a range of capabilities at home.
Below, we'll guide you through some key points to consider before you make a purchase.
Understanding your needs, the differences in machines and which are the best will help you make an informed decision to find the all in one printer that suits your needs.
What is a multifunction printer?
A multifunction printer, also known as an MFP, is a machine that can print, copy, scan and fax, completing tasks of all varieties for its users. It's also commonly referred to as an all-in-one printer, which describes its versatility.
They are a great solution for any business or home office to effectively carry out any printing requirements, potentially reducing the need to have multiple devices for the same purposes. This could save your business money, reduce your carbon footprint, support employees productivity and save space.
The devices come in various forms, from budget to more expensive powerful options, depending on your use and needs. This makes them an ideal printing solution for both business and general home purposes.
How does a multifunction printer work?
The way the multifunction printer works is somewhat dependent on the machine you select to purchase. From the initial set up, user access, and features, these can all be slightly varied on different devices.
With the exciting evolution of technology at rapid rates, new features are constantly considered and integrated into devices.
Most MFP's have a simple tablet-like interface, commonly as a touchscreen to support usability. Other multifunction printers can be wireless, have wifi connectivity or be cloud based.
Understanding the features of the device is important to ensure it meets your needs. We'll go through this in more detail below.
Things to consider when looking for a multifunction printer:
Multifunction printers have a wide range of features that can provide benefits to single and multiple users. Due to this, people and businesses find it difficult to navigate the market and understand which is the best multifunction printer.
We've rounded up some of our favourite machines but before you take a look at them, here's a few things to consider;
Understand your requirements and printing needs
It's incredibly easy to select the cheapest, or most expensive machine, based on what you think you might need. However, the reality is that you may be under or over paying for a machine that simply does not work for you.
It's really important you ask yourself what your requirements are and do this based upon your existing printing habits. Also, consider the future, are you planning to expand or offer more business services that will impact your printing needs.
Understand its features and abilities thoroughly
You don't want to invest in a machine that does not offer what you need. Take time to read and understand the differences in machines and the features they provide. It's with this knowledge or advice from an expert, such as CopyPrint Services, that you can make an informed decision.
Our team will happily try to support you by finding out more about your printing habits and what you're looking for to suggest the most suitable multifunction printer.
Also, consider if there is a particular function you need more than another, for example if you only print 10 sheets per day on average but scan in 120 sheets then you need to ensure the machine can support your larger scanning volume.
See and understand the total cost of ownership, not just the immediate investment of a machine
When searching for a MFP, don't just examine the initial cost of the machine, there's a number of other accessories that you must be aware of; and these can become costly if not managed or considered.
A multifunction printer should be cost effective and carefully regarded to provide the user/s with value. If selected appropriately, you'll likely find over time the machine to be a beneficial asset to support efficiency.
If you are generally a low user then these costs can also be high if selecting the wrong machine.
Managed Print Services - Do you require additional support or a dedicated print partner to manage and optimise your printing solutions and devices?
Alongside supplying a range of different multifunction printers, we also offer Managed Print Services, so you don't have to worry about ordering more print cartridges or any repair works it may require.
Our managed print services aim to ensure you get the most value out of your investment, with cost, efficiency and ease at the core.
With the use of our software we'll pro-actively manage your printing solutions, taking away the headache from you, allowing you to focus on your job at hand.
Cyber security is a growing topic on businesses' agenda. Ensuring a safe, secure and confidential infrastructure is critical to preventing data breaches.
Multifunction printers can be vulnerable to cyber attacks if the correct level of security isn't implemented. All of our MFP's recommended below have virus protection included however, you can read our blog post for more tips on how to keep your multifunction printer cyber secure.
What is the best multifunction printer?
There are many brands on the market that produce a range of multifunction printers. At Copy Print services, our go-to brands are Olivetti, Konica and Epson.
Below, we will highlight some of our recommended products for different scenarios and use, helping you understand which will be the best multifunction printer to suit your needs the most.
Olivetti d-Color MF259
The new Olivetti mf259 is one of the best A3 laser multifunction printers around. You won't go far wrong with this machine if you need a powerful and reliable solution. This is ideal for all your marketing materials/point of sale documents too, with an exceptional quality of performance.
Read more about the Olivetti MF259 here.
Konica C258
For the last 10 years Konica have produced some of the best colour MFP's on the market, This model is our suggested best A3 multifunction printer. As long as its looked after and serviced frequently it can be an efficient machine, perfect for those on a budget .
Find out more about Konica printers here.
In our view the MF3302 is the best A4 laser multifunction printer. It is a great, solid machine for those who need quality prints but don't necessarily have an A3 print need. It's also a great addition to any print fleet for larger offices with A3 machines already in the building.
Epson Workforce Pro WF-878R
This A3 business inkjet multifunction printer is a very reliable machine for those who have a lower use of A3. It offers great quality with numerous features including built in WIFI and fax capabilities.
The Epson Workforce Pro WF-C878R performs all four key functions incredibly well; printing, copying, scanning and faxing. If you or your business has low to mid-level usage and you need a machine that is reliable and continues to performs this could be your ideal printer solution.
Read more about the Epson 878R here.
Epson Workforce Pro WF-C579R
The Epson C579R is currently one of the best A4 business inkjet MFP's around, This is the ideal machine for smaller print volumes. It's the perfect multifunction printer for a busy home office or directors office. It has all of the features of a bigger machine just wrapped in a small package.
You can find out more about the Epson C579R here.
Where can I buy a multifunction printer from?
Hopefully, you now have a much better understanding of the uses of multifunction printers, the benefits and the best brands currently on the market.
We supply all of the above machines highlighted, with flexible pricing options.
After supplying photocopiers and printers for a number of years, we're fully equipped to guide you and provide all the information you require to make an informed decision on the best machine, or other printing solutions, for you and your business.
For more information on our range of products and associated costs, call us today and discuss your brief with one of our team!